Original Writer: Andrew S.
It's really hard not to be a Zelda fan. Over time Nintendo has pumped out some grade A titles for the Zelda franchise. Ocarina of Time is widely accepted to be one of the best games of all time. Recently however there has been some doubt in Nintendo. Twilight Princess was pretty, but it really did not live up to what it could have been. Skyward Sword seems to be shaping up to redeem Link in his console endeavors and there are a few key reasons why.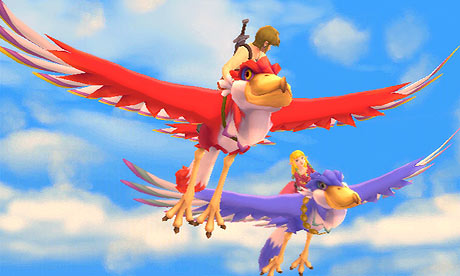 I freaking love these birds!
Ocarina of Time left gamers with huge expectations when it came to new Zelda games. It was the first three dimensional Zelda and featured a lot of new mechanics previously unexplored in games. Almost everywhere you went in the game it felt like there was something new.
Puzzles in the game were unique and challenging even in the relatively new world of 3D. The enemies were tough to beat and did a lot of damage later on causing a lot of the battles to be hectic and challenging. The game also had a dark feel to it with the history surrounding the Shadow Temple which made it a little scary at times. Despite the huge expectations Nintendo prevailed.
I still find Stalfos to be hard to beat...
Majora's Mask was the direct sequel to Ocarina of Time and although it was released not long after Ocarina, it was still fantastic. It is arguably the darkest of the Zelda titles. It featured a lot of the same mechanics of Ocarina with a very different feel to them.
Wind Waker was the next console title released in the Zelda series. The new art style was a cell shaded one with a cartoony feel to it. It was a new style and it worked. Wind Waker held a lot of the same features as the past two console titles: great puzzles and somewhat challenging enemies. The best part about the game was that it had the largest world of any Zelda game (and it was very pretty to look at). The vast ocean had many islands in it, and each island had things to do on them. Wind Waker again left high expectations and Twilight Princess was shaping up to be another fantastic game.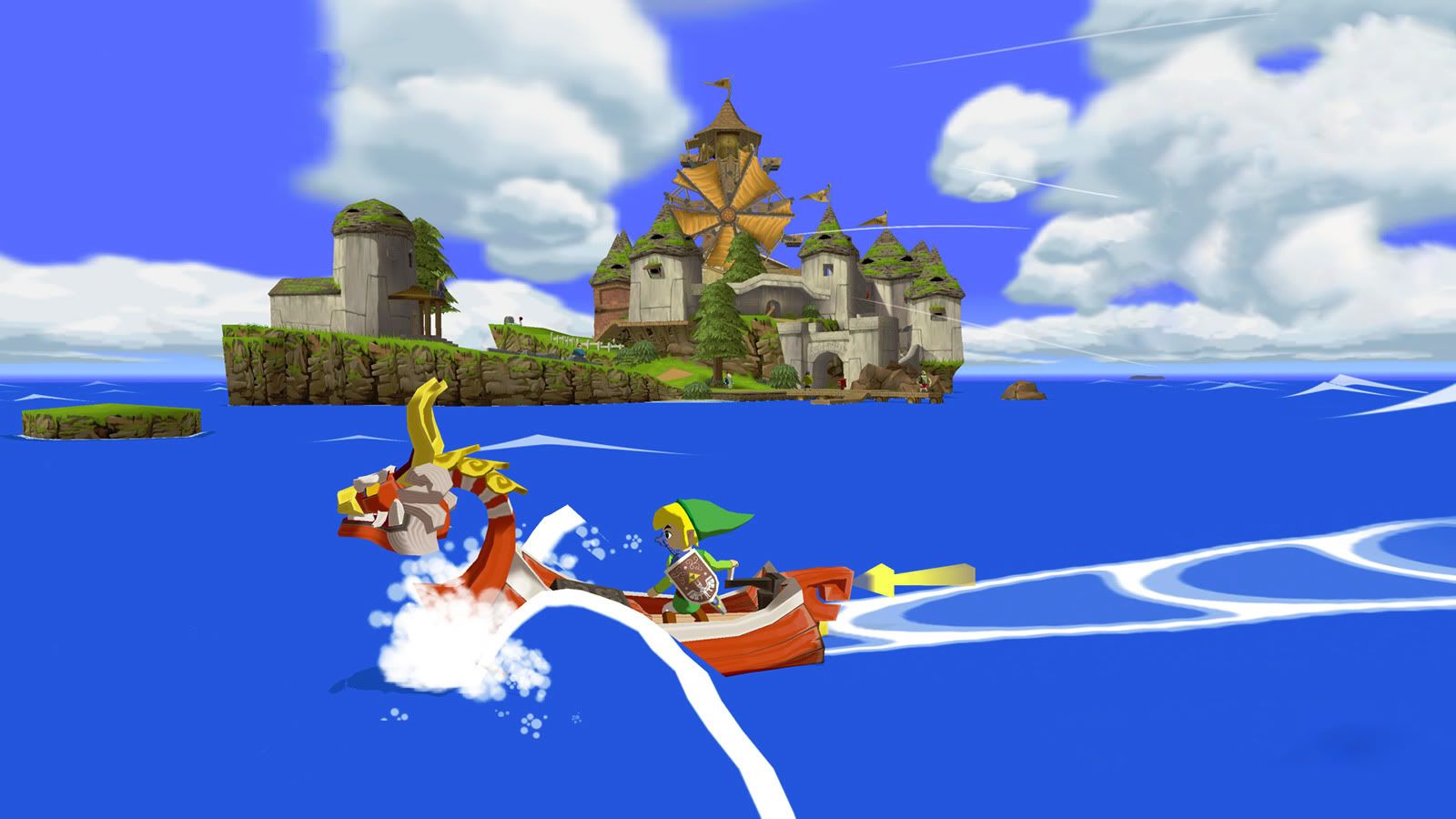 Very pretty.
Twilight Princess ventured away from the cell shaded art style to a much more realistic one and it was another great choice made by Nintendo. There was a vast Hyrule Field to roam, many original dungeons to explore, and a vast amount of enemies. Those are the major things that Nintendo did right when making this game, but they also did some wrong.
Hyrule was a vast a beautiful land in the game but it just felt too big. You would be running around for a long time and find nothing to do.
Pretty, but dull...
There were a lot of original dungeons with a lot of puzzles, but they were far too easy for a Zelda title. If I could play Ocarina as a kid and beat it, I'm sure that a kid today could accomplish a few difficult puzzles.
Although there were a lot of enemies, they were just too easy. The hardest enemy in the game was a mini-boss, every single boss was so simple it just left more too desire. The bosses were not bosses, they were boring time consumers.
Twilight Princess was good, just not very good. A Zelda title should at least be great or maybe even fantastic. Good is not good enough. Twilight Princess was not a memorable game and is one of the reasons (I won't name the others) Nintendo has seemed less than impressive lately.
Now the real question is: What about Skyward Sword? Will it be good? Will it meet and exceed expectations as Zelda normally does? I believe yes, and here is why.
In recent times I feel like Nintendo has been making a comeback. A lot of their series seemed unexplored or were in a sort of slump but they brought them back. Nintendo listens to the gaming community. They do not simply want to make money, but also make good products. Shigeru Miyamoto told the development staff of Skyward Sword that it better be the best Zelda title yet or they'll be done with the series. This really shows how much Nintendo actually cares.
Awww yeah, Miyamoto!
The music and environments seem to be colorful and nice. The cell shaded style with a more realistic Link is a nice art style, it is aesthetically pleasing. They also seem to be putting a lot of work into the music.
The creators of Skyward Sword said that the world will not be as big as Twilight Princess. They want to focus more on condensing a lot of the content into smaller areas and just making the game more fun all around.
Oh god, more Stalfoss.
Nintendo learns from its mistakes, or at least I think so. Maybe I'm just a diehard fan that wants to believe that the next Zelda will be good. I would like to think that I have some insight though. I cannot wait to see what Skyward Sword shapes up to be in the Fall, but here's hoping it will not let down.